Sunday, December 6, 2009
In 1930, a new division in the Treasury Department was established — the Federal Bureau of Narcotics — and Harry J. Anslinger was named director. This, if anything, marked the beginning of the all-out war against marijuana.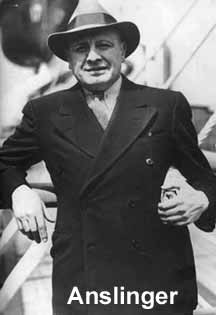 Harry J. Anslinger
Anslinger was an extremely ambitious man, and he recognized the Bureau of Narcotics as an amazing career opportunity — a new government agency with the opportunity to define both the problem and the solution. He immediately realized that opiates and cocaine wouldn't be enough to help build his agency, so he latched on to marijuana and started to work on making it illegal at the federal level.
Anslinger immediately drew upon the themes of racism and violence to draw national attention to the problem he wanted to create. He also promoted and frequently read from "Gore Files" — wild reefer-madness-style exploitation tales of ax murderers on marijuana and sex and… Negroes. Here are some quotes that have been widely attributed to Anslinger and his Gore Files:
"There are 100,000 total marijuana smokers in the US, and most are Negroes, Hispanics, Filipinos, and entertainers. Their Satanic music, jazz, and swing, result from marijuana use. This marijuana causes white women to seek sexual relations with Negroes, entertainers, and any others."

"…the primary reason to outlaw marijuana is its effect on the degenerate races."

"Marijuana is an addictive drug which produces in its users insanity, criminality, and death."

"Reefer makes darkies think they're as good as white men."

"Marihuana leads to pacifism and communist brainwashing"

"You smoke a joint and you're likely to kill your brother."

"Marijuana is the most violence-causing drug in the history of mankind."
And he loved to pull out his own version of the "assassin" definition:
"In the year 1090, there was founded in Persia the religious and military order of the Assassins, whose history is one of cruelty, barbarity, and murder, and for good reason: the members were confirmed users of hashish, or marihuana, and it is from the Arabs' 'hashashin' that we have the English word 'assassin.'"